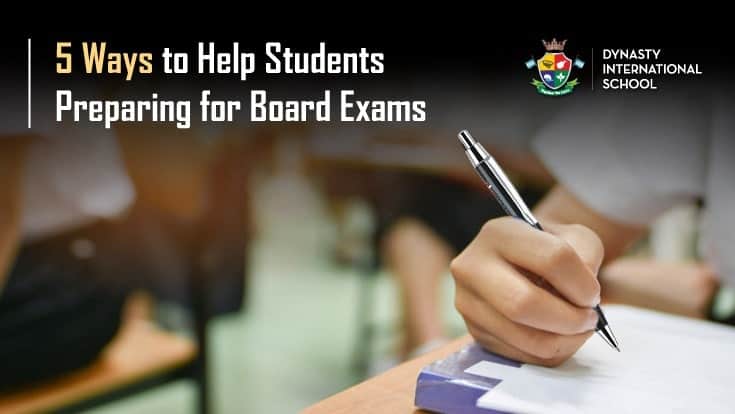 22 Feb 2020
5 Ways to Help Students Preparing for Board Exams
The board examinations are here and with them comes a certain degree of stress for students, teachers and parents.
Board Exams are the stepping stone in a student's school life and hence it is important to prepare them mentally and physically to soak in all the pressure and perform their best.
As parents and teachers, we can't really change this situation. The best we can do is to help our children to cope up with the stress in a healthy and efficient way. It will take a well-rounded effort from all towards our students that are eager to step up for these board examinations.
Taking a step from our side, we bring you this informative piece on how to help your children prepare for boards. Let's have a look:
Right Time Management is the Key:
Right time management gives ensured results. Teach your children the right technique to manage the time.
One of the most important time management tips is to set small objectives for a day instead of breaking the big stone all at once.
Interaction is the Way Forward:
Know what's bothering your children or students. The only way to get this done is by talking to them. Talk to them on how they feel about their exam and the stress related to it. Don't pressurize them for achieving a standard target. Instead, motivate and allow them to breathe freely.
Watch Out What and How They Eat:
Eating gives strength to the mind and body. Make sure your children or students are having food which is full of nutritious value. Try to avoid heavy or junk food because it minimizes their productivity. Even shifting to a liquid diet for the exam period is a good option.
Break at Regular Intervals is Mandatory :
A human brain indeed loses its power to concentrate after a point of time. So, break at regular intervals is mandatory. This will boost the concentration of your child. Also, it will motivate your child to work harder for the next time.
Discuss their Exam Strategy:
Some students are in the habit of solving papers in a chronological manner. This might not always be helpful for them. They should know how to divide the time to solve the paper effectively in limited time. Prepare a proper strategy with them so that they complete the whole exam within the allotted time.
Success never comes for free and yet it should be subjective for each and every student.
Therefore, exams shouldn't be treated as a larger than life event. We as parents and teachers have a larger role to play as guides who understand students' strengths and weaknesses to provide better guidance during board examinations. We hope this blog was useful for you.
Thank you for reading and we wish you "All The Best" for the upcoming boards.