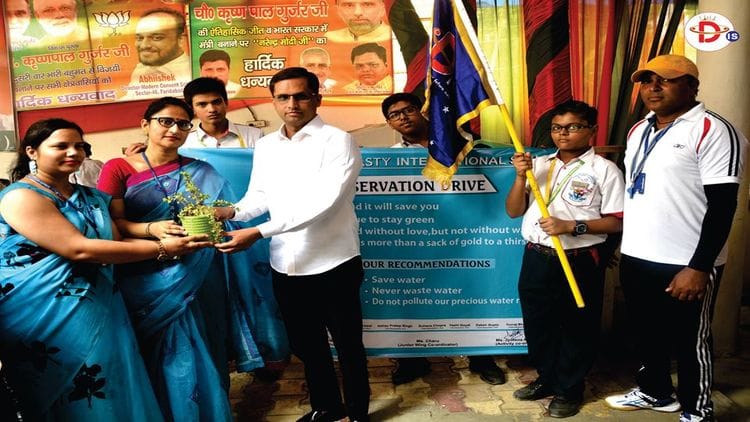 15 Jul 2019
INTERACT CLUB (WATER CONSERVATION DRIVE)
Date: 15th July 2019
Theme: WATER CONSERVATION DRIVE by Interact Club
"A drop of water is worth more than a sack of gold to a thirsty man"
The above line means that for a thirsty person,a drop of water is more important a sack of gold. We all know that how important is water to everybody's life but with passing time, we have seen that how our water level is depleting rapidly.
So,an awareness rally on "Water Conservation" was organized by "Dynasty international school" on. Nearly 200 students of class VII & VIII along with the teachers joined in the drive.
The rally started spreading the awareness firstly, from the school premises where in they visited different classrooms with great enthusiasm appealing the kids to understand the value of saving water. They then went through the street of Sec-28 where in the class representatives went from door to door urging residents to save water and recycle the same with the help of placards, the students focused on "Water Conservation and its Preservation"
The kids raised slogans like – "Save Water,Save Earth" Don't let life slip down the drain and so on. They walked till the office of Mr.Krishan Pal Gujjar. Mr.Devender Chaudhary, the son of Mr.Krishan Pal Gujjar was presented a planter as a token of regard from the dynastian family.He gave his valuable time to us and made an impression on the banner of the Water Conservation Drive. How thrilled and energetic the students were!
Besides,during evening,a few students went to their neighbours and sensitized them about this virtue on saving water, pleaded them to save water.
Maximum of 250 numbers of houses have been covered by them & extended the water conservation drive into another level. in order to bring smiles on everybody's faces.