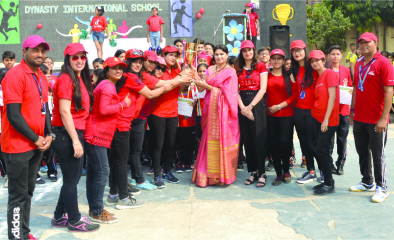 08 Nov 2019
ANNUAL SPORTS DAY 'URRJA'
Date: 8.November.2019 Theme: Annual Sports Day (URRJA)
The much awaited Annual Sports day "URJJA 2019" was held at Dynasty International School on 8 November, 2019 with great zeal, excitement and frolicsome atmosphere. Honorable Director maam, Mrs. Kalpana Verma graced the occasion as the Chief Guest.
The programme commenced with the speech of Director Mam highlighting the importance of sports in a child's life, following the declaration of Sports Day open. The ceremonial torch was lit and was followed by the spectacular and well synchronized March Past by all the four houses on the drum beat. This was followed by an energizing display of Dumbbell drill which set the tone for the rest of the day.
Once the races began, the air was filled with cheering and tons of encouragement for the young athletes. Students of Classes III to VIII competed in a plethora of events including Flat race, Sack race, Relay race, Three Leg race, Hurdle race, Slow cycling etc. The most intriguing aspect of the day was the systematic and organised team work of the school staff, especially Sports teachers who made the day successful. Peppy dance moves of cheers girls invigorated the ambience with thrill and excitement.
Prize distribution ceremony was conducted at the end and all the winners were awarded with medals and certificates on the Victory Stand by the Honourable Director Mam and the Academic Co-ordinator. Aditya Gupta (VIII-A) was awarded the Best althete among boys and Rajlakshmi (VIII-C) was awarded the Best althlete among girls. Finally Invention House emerged as the House Champion with maximum score and was awarded with the Running Trophy. The Sports Day concluded with the National Anthem. It was a day filled with sportsmanship, enthusiasm and memories to cherish.