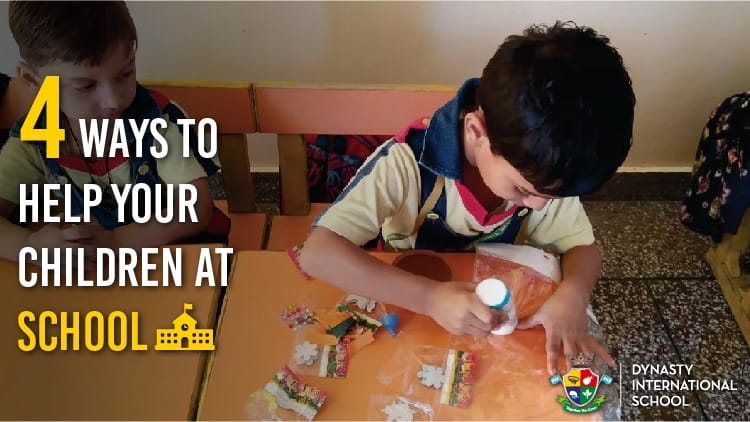 30 Dec 2019
4 Ways to Help Your Children at School
School is a very crucial period in anyone's life. This is where some of the
best things happen and lays down the foundation for life. It's a gamut of
bitter-sweet experiences which we all cherish forever. That is why it is
important to look for the  best schools in Faridabad  as well as other cities.
When a child starts school, there are several things that we can do to make
sure their journey is safe and monitored. As parents, nothing is more
important than their child. Here are a few things that you can do to support
your children.
Meet the teachers:   You should meet the teachers and discuss how they
intend to start the session and how they manage children. It's best to know
how they handle children in difficult situations. Also, ask them on how to
develop a perfect relationship with the child. Talking about the child's
behavior also helps teachers understand in advance. It might come handy
when dealt with. Similarly attend the parents-teachers conference, this way you will be
updated on how your child is doing.
Monitor everything: As mentioned before childhood is a crucial time, we
need to monitor their progress at school and home. During childhood,
attention to a child's psyche is also important. It always works if you
encourage them to open about their feelings. It should be a two-way
conversation. They should also be involved in physical activities. After
completing homework, instead of TV or video games. Playing outside is the
best solution Sometimes a child doesn't open about his/her feelings. They can start
acting in a certain way and not knowing makes it hard. This is where you
can ask the teachers for feedback. It could be that something happened at
school. They might be able to shed some light on the issue and can
monitor closely.
Ensure their safety: Safety is of utmost importance for parents. The
schools usually are thorough with safety rules but still, it's better to keep an
eye on your end. After all, we want what's best for them and safety is a
major part of it. The efforts have to be from your end as well. Teaching a
child about the do's and don't is equally important.
Balance of studies and activities: Maintaining a perfect balance between
studies and other school activities need to be monitored.
Know their friends : Knowing their friends is also on the list, it helps to
know about their behavior. As parents, try to meet the friends' parents as
well. The relationship between the parents fosters the bonding between the
children. Arranging playdates further adds to the whole experience.
Selecting a school these days is an art. There are many top school s in
Faridabad but you just have to find that would be an excellent fit for your
child.