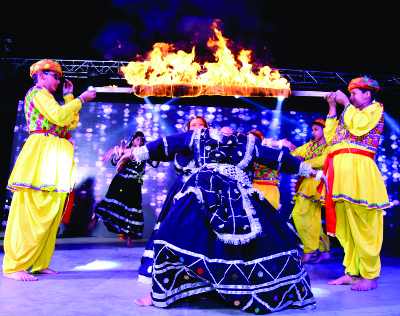 23 Aug 2017
Scholar Badge 2016
Dynasty International School Sector 28, Faridabad celebrated its Scholar badge Ceremony on 18th December 2016 with great pomp and show enthralling the audience.
The programme began with the lighting of the lamp and welcome of the Chief Guest Mrs.Seema Trikha Chief Parliamentary Secratary ,BJP and words of wisdom by the Principal Mrs.Bimla Verma followed by a Ganesh Vandana. Dr.RS Verma the founder of the school , Mr.Nitin Verma Director of Dynasty International School ,Director of Medicheck hospitals Mr.Sumeet Verma ,along with prominent dignitaries and Rotarians were also present .
The Annual report by the students highlighted the achievements of the past session followed by a highly entertaining cultural show of music, dance and drama.
Mesmerizing performance in folk dances and musical presentation kept the audience hooked on the stage.
Kalbelia and Yoga got huge applause from the audience while the Krishna Leela got an standing ovation. The Strret play on Cyber Crime was also one of the highlights of the programme and was highly appreciated by the chief Guest Mrs.Trikha.
The Chief Guest along with the Principal and all dignataries and Rotarians flagged off the "NO SPITTING NO TUBERCLAUSIS" campaign taken up by the school. The Chief Guest presented the meritorious students with Scholar Badges and gave away the prizes to the achievers in academics. More than 450 students were awarded. The Chief Guest in her address highly appreciated the programm and congratulated the students. She wished the school many more landmarks in times to come.