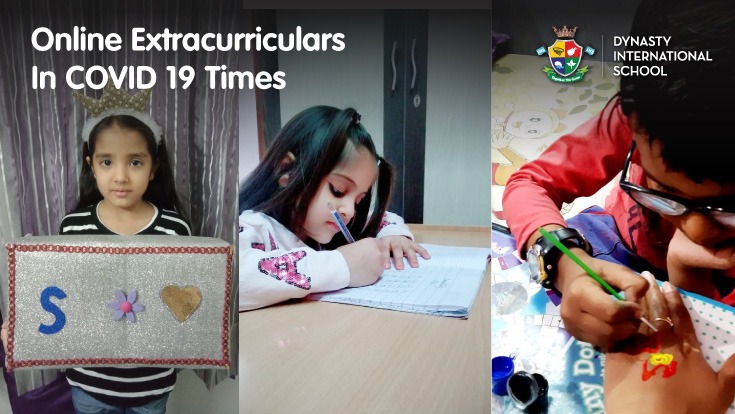 17 Jun 2020
Extra curricular activities for students in Covid-19 lockdown
Keeping in mind the holistic development of the children, Dynasty International School went a step ahead of online academics classes and organized various online extracurriculars activity  & competitions. These online competitions were conducted with the vision to explore and keep the creative side of children running during the ongoing COVID-19 lockdown period.
These online activities and competitions included everything from sustainable cooking to theme-based Hindi/English poetry recitation. In the process we turned the mundane lockdown into a fun way to enjoy and learn. Here are a few activities and competitions that we organized:
Cooking without Fire
We at Dynasty believe that cooking is fun and healthy eating can only be practised if one knows how to cook healthy. So, we initiated an online competition for our young students on the same concept.
The students of the school showcased their culinary skills by preparing scrumptious dishes and snacks made without fire. These dishes were made from bread, pulses, cereals, vegetables, fruits etc. and all of them were beautifully presented and garnished by students that really made our day.
Speech on "My Ambition"
We strongly believe that a healthy ambition is the key to success.
So, young minds of Dynasty were tasked to give a speech on the topic "My Ambition". Many students sent recorded video clips to the teachers, revealing what their aim is in life. Students participated in huge numbers which proved that youngsters only need a platform to exhibit their talents. Furthermore, through proper guidance of parents and teachers, they can go beyond the seven skies of success.
Theme Based Poetry Recitation
At Dynasty International School, we believe poetry is the abstract expression of hidden feelings which is portrayed through meaningful words. We wanted the young minds to discover this beauty and hence organized an online Hindi/English theme-based poetry recitation competition. The theme given was "Dharti Maa" or "Mother Earth".
This competition was an effort to help young minds think and speak their thoughts. So many students came up and recited wonderful pieces.
Debate on "Technology Serving as a Boon in the COVID 19 Lockdown"
As the citizens of digital India, we were curious to know about how our students treat technology. Do they take it as an advantage or a disadvantage? Therefore, we organized an online debate competition on the topic "Technology serving as a boon in the COVID 19 lockdown" to get a peep into their young minds. We got many entries for the motion and against the motion. Some students strongly presented their ideas about the fruitful use of technology in this pandemic situation. However, a few students emphasized that no technology can replace the essence of human touch. A few also insisted that technology can never replace human labor.
Above mentioned online activities and competitions are just a handful of many organized by us. To see them in detail with picture galleries do visit our website or social media pages.
You can visit us at: https://dynastyinternationalschool.in