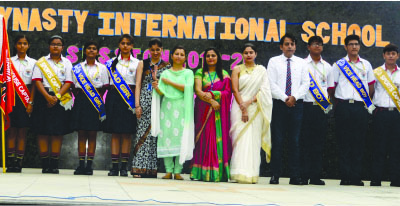 07 Aug 2019
INVESTITURE CEREMONY
On 7th AUG 2019 the Investiture Ceremony of Dynasty International School 2019 – 20 was held with great pomp and dignity in a Special School Assembly Conducted on 7th AUG 2019. The Investiture Ceremony signifies the reliance & confidence that school consigns in the newly invested office bearers.
As the sun beamed with positive energies and blessings from the partially cloudy sky, Dynasty International School was all set for the Investiture Ceremony of the Student Council for the academic session 2019-20. Leadership is the capacity to translate vision into reality
Students Welcomed Principal Sir, Director Mam with huge round of applause. This was followed by a Ceremonial welcome by escorting them to the stage with the House Flags on a melodious note which reverberated through the school ground setting the mood of the event.
The Ceremony started with the School Prayer. Principal Mr.Nitin Verma Sir blessed and congratulated the newly appointed Student Council and stressed on the significance of setting priorities and the need to be great communicators. He advised them to be the role model and extended a supporting hand to the Student Council for smooth running of school. Ms.Minu Vohra Sr.Academic Co-ordinator welcomed the Principal Sir, Director Mam, teachers and students. She explained the vigorous procedure adopted for selecting the Student Council. Ms Neera Agrawal administered the Oath to the Student Council. Members of Student Council were given Sashes and Badges by the Dignitaries.
Members of Student Council
1- Head Girl – GUNJAN CHAUDHARY XI-E
2- Head Boy – DEEPANSHU GARG XI-A
3- Vice Head Girl – PRAKRITI SAXENA XI-D
4- Vice Head Boy – MOHIT VERMA XI-B
5- General Secretary – YASHASVI SAXENA IX-B
6- Sports Captain Boys – BHESHAJ SHARMA XI-C
Girls – ADYA GOENKA XI-A
7- House Captain
DISCOVERY – ISHIKA NARANG XI-C
INVENTION – SNEHA JHA XI-B
INNOVATION – MANSI CHAUHAN IX-A
CREATION – ADITYA CHAUDHARY IX-C
8 – List of Prefects
XI-A
Muskan Rai
Riya Pal
XI-B
Shailendra Singh, Sahil Tomer
XI-C
Yashraj Sharma, Gaurav Gautam, Mehal Arora
XI-D
Dev Mishra
XI-E
Kirti Taneja, Deepti Dwivedi,Nisha Singh, Akansha Gur
VIII
Gautam, Sanskriti, Bhavya Shree, Prateek Fuloria
Students of Senior Wing presented a wonderful dance performance in the Investiture Ceremony with lot of zeal and zest.
The function concluded with the National Anthem.It was a memorable day for Dynasty International School.